Regular price
$ 6.00
Sale price
$ 6.00
Unit price
per
Sale
Sold out
Scent

lemongrass & amber

Meet the Monsters - Detailed Scent descriptions.

Bigfoot: Northwest Cedar
Bride: Chocolate & Vanilla
Creature: Frankincense & bergamot
Dracula: Cedarwood & Rose
Elizabeth Bathory: Lemongrass & Amber
Gentleman Jack: Lavender & vanilla
Ghostly Pirate: Spiced blood orange
Lilith: Rose & Mint
Marie Laveau: Sweet southern bourbon
Reaper: Tea tree & peppermint
Psycho Clown: Screamsickle (vanilla and blood orange)
Vampire Hunter: Leather & spice
Viking: Vetiver, cedar, & bergamot
Witch: Vetiver, lavender, frankincense & tangerine
Witch Doctor: Key lime & coconut
Wolfman: Douglas fir & balsam
Zombie Killer: Sweet tea & honeysuckle

Note: These are not ingredient lists. They are descriptions of the fragrances. If you have a sensitivity to any essential oil, ask us and we will let you know if we use it!
Ingredients

saponified coconut oil, goat milk, fragrance, mica
From 1590 to 1610, Hungary was home to a noblewoman named Elizabeth Bathory. She was feared by those living under her for her peculiar hobbies. A vicious woman, Bathory is seen as a sort of female counterpart to Vlad Tepes in the somewhat niche demographic of "real life vampires."
She was known for bathing in both milk and blood. Well, the FDA might have something to say if we started making our soaps with blood, but we do make this soap with goat milk. Next best thing, right? 
By using goat milk instead of water to combine lye and oil, we create a soap with a higher fat content. That's better for your skin, my friends. 
The soap is scented with lemongrass, atlas cedar, and fossilized amber. The result is a smooth, almost buttery lemon fragrance that really comes alive in the bath or shower.
Share
View full details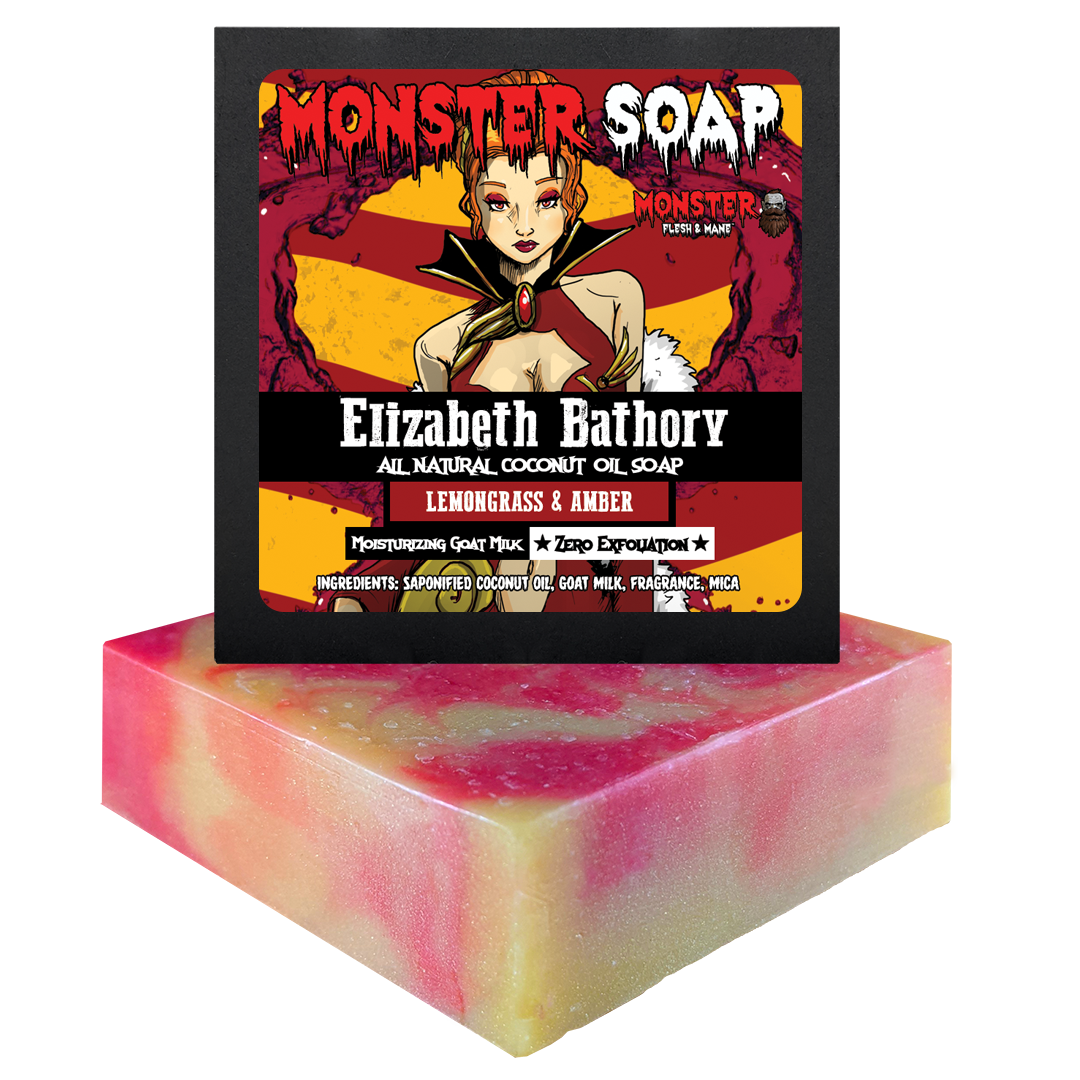 Featured Ingredients
Coconut Oil

100% Pure and Natural
The most moisturizing soap oil with a wicked lather.

Goat Milk

High in skin-healthy fat and nutrients.
A Word on Exfoliating Soaps
At MONSTER Flesh & Mane, we use four grades of exfoliation in our soaps.

None
These soaps do not have any exfoliation ingredients and thus require no special instructions.

Light
With the finest grit, the exfoliating ingredients in these soaps will gently scrub away dead skin from the topmost layer. Less effective, but great for daily use. Use as normal.

Moderate
These soaps have slightly coarser grit, or harder bits that will exfoliate a bit harder. If you just scrub away with these, you may cause some irritation and scratching of your skin. Slow it down a bit.

Heavy
The exfoliating ingredients in these soaps are coarse or especially hard, and will seriously abrade away dead skin. Use slow, deliberate circles when scrubbing with these soaps. Not for every day use; use only as needed.