Regular price
$ 6.00
Sale price
$ 6.00
Unit price
per
Sale
Sold out
Scent

oakmoss, vetiver, and a hint of grapefruit

Meet the Monsters - Detailed Scent descriptions.
Ingredients

saponified coconut oil, water, fragrance, activated charcoal powder
Special Properties

· Detoxification (Activated Charcoal Powder)
LIMITED EDITION!
We're only making so many bars, and then it's out. Don't delay if you want this one!
The ever-popular undertaker at the Monster Lair has returned for a brief outing.
Grave Digger is a special edition scent that we roll out now and then. It's made with oakmoss and vetiver, with a hint of grapefruit. It smells earthy and fresh, like rain-soaked earth. Oakmoss grows in trees all over, but the scent especially reminds me of the trees in my grandpa's yard when I was little back in Georgia.
The soap itself is made of our coconut oil base, with detoxifying, deep-cleansing charcoal powder added.
This soap contains zero grit - no exfoliation. It is good for general daily use on hands, face, body, and even beard if you like (just follow up with a Beard Conditioner!).
Share
View full details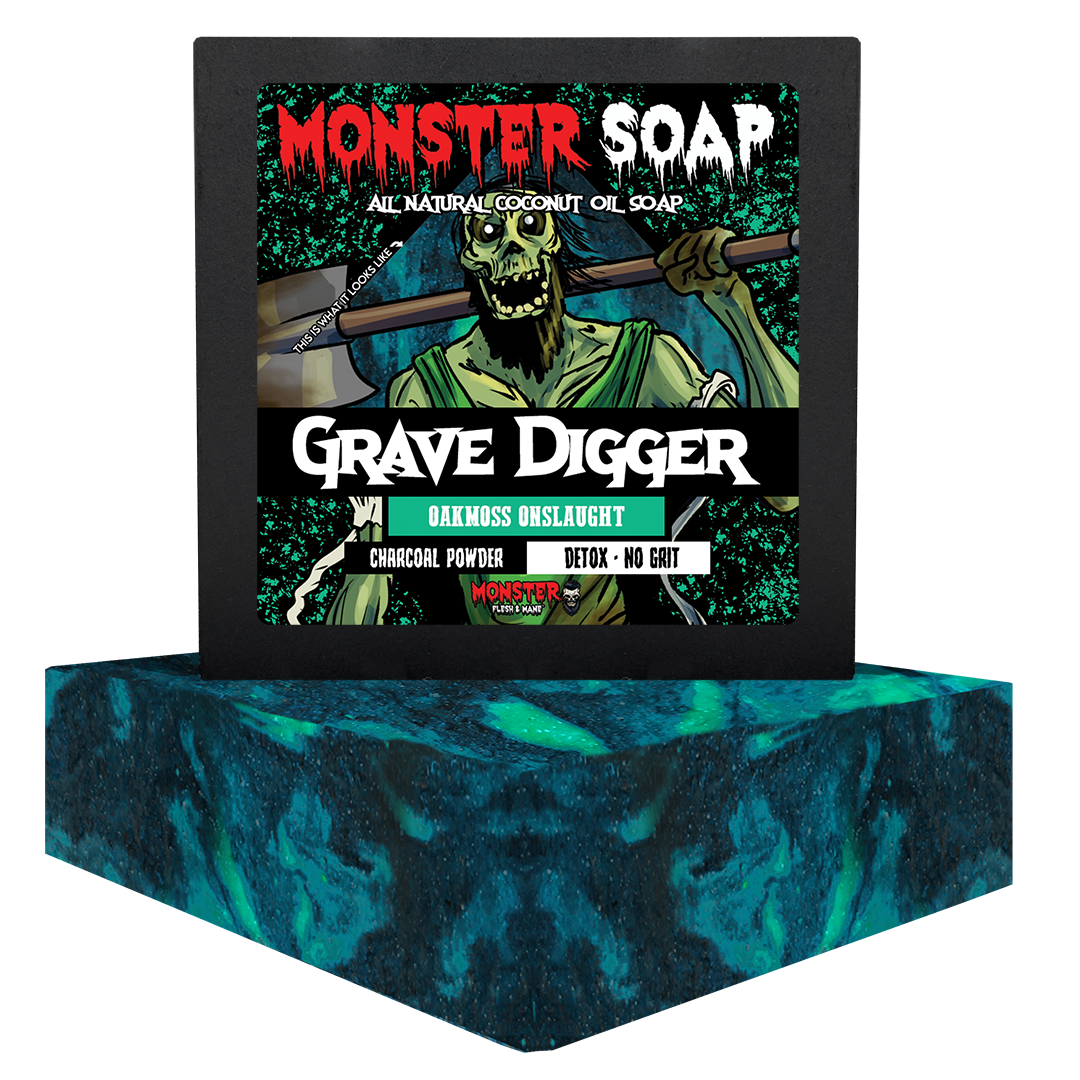 Featured Ingredients
Coconut Oil

100% Pure and Natural
The most moisturizing soap oil with a wicked lather.

Charcoal Powder

Uses mad science to absorb dirt, oil, and nasty stuff.
A Word on Exfoliating Soaps
At MONSTER Flesh & Mane, we use four grades of exfoliation in our soaps.

None
These soaps do not have any exfoliation ingredients and thus require no special instructions.

Light
With the finest grit, the exfoliating ingredients in these soaps will gently scrub away dead skin from the topmost layer. Less effective, but great for daily use. Use as normal.

Moderate
These soaps have slightly coarser grit, or harder bits that will exfoliate a bit harder. If you just scrub away with these, you may cause some irritation and scratching of your skin. Slow it down a bit.

Heavy
The exfoliating ingredients in these soaps are coarse or especially hard, and will seriously abrade away dead skin. Use slow, deliberate circles when scrubbing with these soaps. Not for every day use; use only as needed.