Regular price
$ 6.00
Sale price
$ 6.00
Unit price
per
Sale
Sold out
Ingredients

saponified coconut oil, water, ground lavender flowers, fragrance
Special Properties

· Light Exfoliation (Ground Lavender)
A recent study showed that the two scents that appeal most the men are lavender and vanilla. Even if we tell the scientists we like something else better, it's these scents that really illuminate our brain bulbs more than any other. So, scientifically speaking, you're very likely to enjoy Gentleman Jack soap.
Like most of our soaps, we've also got an unconventional exfoliator in this bad boy - lavender flowers. It fits the theme, and we can even grow the ingredients ourselves in the Monster Lair's poison gar -- er, garden for very safe plants. Yep.
The natural color used in our Gentlemen Jack soap comes form alkanet root powder, an herb that's been used for centuries for medicinal purposes. Modern science says that it's chock full of antioxidants, so we can all agree that it's good stuff. It imparts a soft purple color, fitting the scent and exfoliator in this one.
The coconut oil base in this soap will get you plenty clean, but is so gentle that some people use it in their beards and hair. It's highly respectful of your body's natural oils. All soaps strip oil from skin - that's how they work - but they don't have to leave you feeling completely desiccated. This one will treat your flesh like a new puppy - nice and easy.
Share
View full details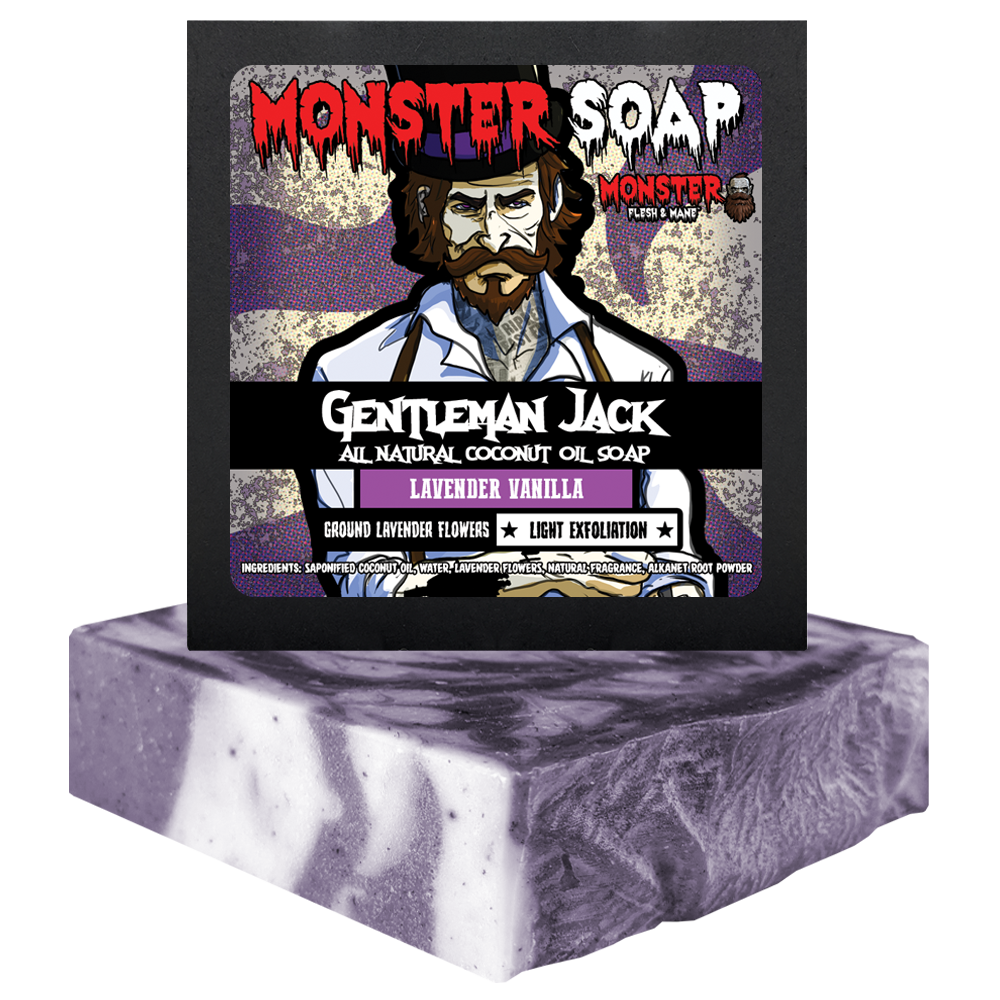 Featured Ingredients
Coconut Oil

100% Pure and Natural
The most moisturizing soap oil with a wicked lather.

Lavender

Dried and finely ground for light but effective exfoliation. Smells great, too.
A Word on Exfoliating Soaps
At MONSTER Flesh & Mane, we use four grades of exfoliation in our soaps.

None
These soaps do not have any exfoliation ingredients and thus require no special instructions.

Light
With the finest grit, the exfoliating ingredients in these soaps will gently scrub away dead skin from the topmost layer. Less effective, but great for daily use. Use as normal.

Moderate
These soaps have slightly coarser grit, or harder bits that will exfoliate a bit harder. If you just scrub away with these, you may cause some irritation and scratching of your skin. Slow it down a bit.

Heavy
The exfoliating ingredients in these soaps are coarse or especially hard, and will seriously abrade away dead skin. Use slow, deliberate circles when scrubbing with these soaps. Not for every day use; use only as needed.