Regular price
$ 6.00
Sale price
$ 6.00
Unit price
per
Sale
Sold out
Ingredients

saponified coconut oil, water, fragrance, earl grey tea, ground honeysuckle flowers
Special Properties

· Light Exfoliation (tea leaves & ground honeysuckle)
· Antioxidant (tea leaves)
The Zombie Killer soap is for men of sophistication who nonetheless require a serious soap.
Packed with Earl Grey tea - which compliments the black tea scent of the soap - as well as ground honeysuckle, this is one of our grittiest soaps. It's great for exfoliation when you need something that's not overly harsh.
Then check out this wicked coloration. The camo design is created with cocoa powder - brimming with skin-healthy antioxidants - and activated charcoal powder that's great for cleansing and detoxing skin.
The scent is one that's special to our hearts, as it consists of elements that remind us of being back in Georgia (our original home, where we lived ten minutes from the set of The Walking Dead TV show - appropriate, right?). Our natural fragrance elements blend into something that smells a bit like black tea, a bit like evergreens, and a bit like honeysuckle. That's the scent of a warm, summer night in Georgia. If you know that smell, you'll dig what's in this soap.
Share
View full details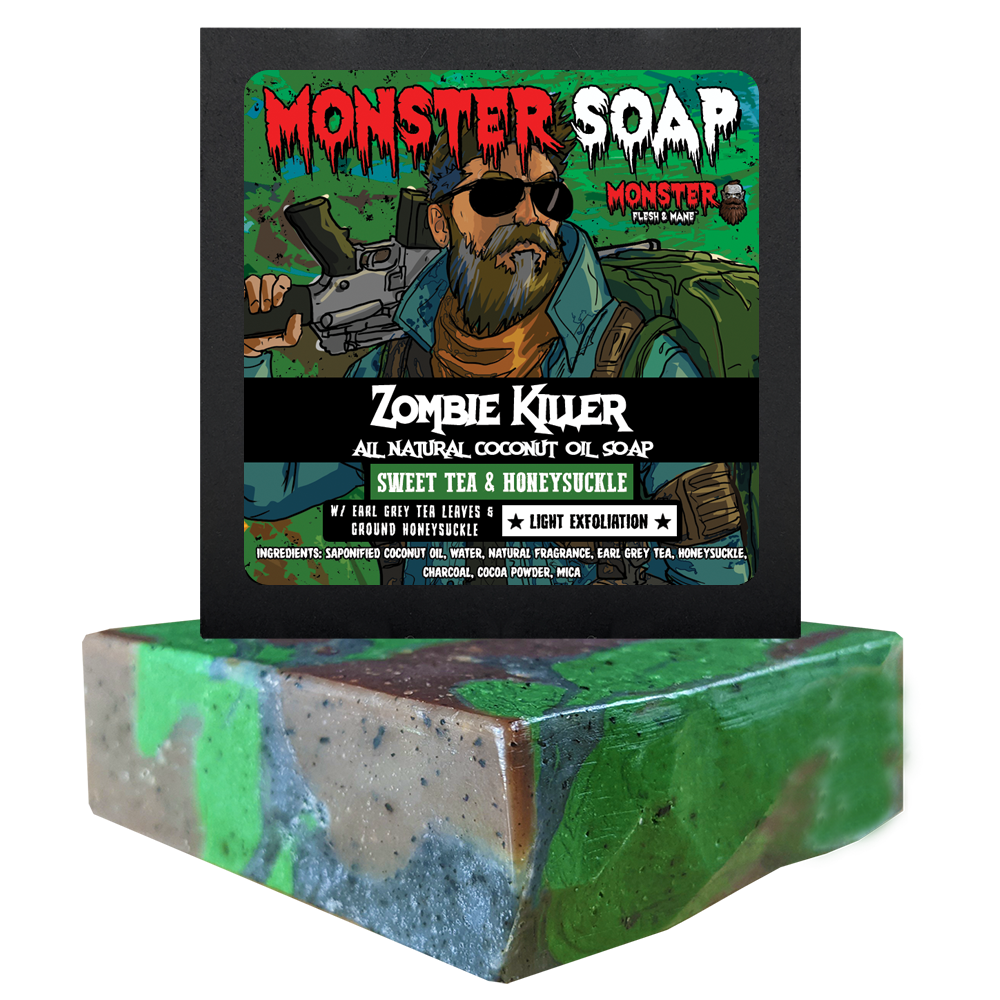 Featured Ingredients
Coconut Oil

100% Pure and Natural
The most moisturizing soap oil with a wicked lather.

Black Tea

An exfoliator that imparts anti-oxidants to the soap during saponification.

Honeysuckle

Light exfoliator with anti-bacterial and anti-inflammatory properties.
A Word on Exfoliating Soaps
At MONSTER Flesh & Mane, we use four grades of exfoliation in our soaps.

None
These soaps do not have any exfoliation ingredients and thus require no special instructions.

Light
With the finest grit, the exfoliating ingredients in these soaps will gently scrub away dead skin from the topmost layer. Less effective, but great for daily use. Use as normal.

Moderate
These soaps have slightly coarser grit, or harder bits that will exfoliate a bit harder. If you just scrub away with these, you may cause some irritation and scratching of your skin. Slow it down a bit.

Heavy
The exfoliating ingredients in these soaps are coarse or especially hard, and will seriously abrade away dead skin. Use slow, deliberate circles when scrubbing with these soaps. Not for every day use; use only as needed.